We see loads of failed items come in for repairs.

We get all kinds of failed items that come into the shop for repair. Some are items that have failed from mechanical flaws and some are caused by lack user maintenance. We have seen things like dog chains wrapped around a mower blade, water in gasoline, diesel fuel in gasoline, gasoline in diesel engine, and lots of mouse nests. Below you will see some of these FAIL items that we took time to catalog. We have changed the names to protect the guilty.

New Kawasaki Hand Held Blower in the Box

The other day I opened this blower and found it to be damaged inside the box. The box does not show damage enought to cause the blower damage.

B&S engine that failed, brand new never sold unit from Lowe's

Blower housing cover bolt broken MWE-BS-000178

Properly operating Log Splitter

Below are a couple short videos of a properly operating log splitter. Customer complained that it does not split wood well. This is a small Troy-Bilt splitter rated at only 27 tons. It split the log he provided which was green with a little strain and then these two pieces almost with out effort.

Hot PTO Clutch


This was a PTO clutch on a Troy-Bilt rider that just plain failed. It was covered under warranty. You can clearly see the goo melted from inside the coil part of the clutch.
---
Lack of Air Filter Maintenance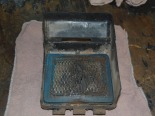 This owner had a tow behind vacuum/ bagger. It is 3 years old and he never changed the air filter. The filter became clogged so it looks like he punched a hole in it to allow the engine to run. The engine now failed from dust ingestion.
---
Lack of Lubrication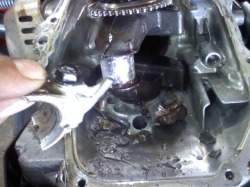 Here we can see what happens when you decide not to used the required amount of lubrication in the engine. We have multiple bearing failure which lead to the connecting rod seizing to the cranks shaft, this welded the two together. The connecting rod broke and sent small pieces throughout the engine.
---
Nests
We see this kinda thing a lot in the spring time. For some reason the little mice like to get up underneath the blower housing and build themselves a nest in this area. They eat the spark plug wire and kill wires. If they don't chew all the way through the wires and the engine starts and runs, well there is just not enough meat to eat on the little guys after they are done cooking.
They can chew through the wire backing on the air filters and build nests inside the carburetors and air filter housings also. This leads to the nests getting sucked into the engine and clogging things up a bit.
Mouse nests are not covered under warranty. The engine manufacturer did not install the mice therefore are not liable for the damage they create.

Seeder



Original installed engine is a CH740-3157.

Last year C***** C* in S*******, MO re-powered with a CH730-0039 which failed
after a little over an hour with what appeared to be a spun oil pump gear.

We re-powered in April with a CH730-0039 which failed after less than an hour
with the following results

We found out that C***** C* in S*******, Mo re-powered with an incorrect engine. The original engine had a thrust bearing on the crank shaft for side loads. The replacement engine did not and this is the result.